Shortly after his coronation, King Edward II reclaims his lover Gaveston from exile, lavishing him with titles and riches. Their all-consuming affair alienates the Kings wife, makes enemies of his nobles, eclipses the law, and threatens to destroy the nation. As one of the earliest English history plays by one of Shakespeare's contemporaries, Marlowe's Edward II is a classic tale of land, law and desire, and of a King accused of treating the nation as his playground.
CONTENT WARNING: This play contains adult content and violence. It may not be suitable for children.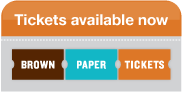 Location:
The Rexville-Blackrock Amphitheatre
Share This Post...